Fran Greene, the Flirting, Dating, and Relationship Coach
Author of  The Flirting Bible, Your Ultimate Photo Guide to Reading Body Language, Getting Noticed, and Meeting More People Than You Ever Thought Possible!
Fran Greene is a nationally renowned relationship expert.  She has a private practice working with singles who want to maximize their social life and couples who want to improve their relationship.  Fran is also an accomplished online dating coach helping singles find their perfect match.
---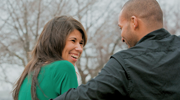 Get a FREE copy of The Flirting Bible! Become a fan of The Flirting Bible on Facebook and take part in our Flirty Friday giveaways for a chance to receive a free copy of The Flirting Bible, your one-stop resource for becoming a fabulous flirt. Click here to visit us on Facebook and become a fan!
---